Refocusing
The month of December turns into crazy town around here. Is it the same for you? I try really hard every year to find meaningful ways to stay focused in the midst of the Christmas chaos and one of my main goals is to get Christmas shopping out of the way. It has a tendency to take over, and I want to enjoy my time leading up to Christmas. Preferably with a cup of coffee, sitting underneath the lit Christmas tree, in my cozy pajamas. NOT running from store to store, hoping they'll have what I need want.
I found a really great reading plan (if you can even call it a plan) to use with the kids as we journey through this Advent season. We've been so intentional about reminding the kids why we have Christmas in the first place, and it's another good chance to read the Bible together as a family. I'll share that with you at some point.
I've been using the Advent devotional that our church has put together and then I saw some pretty great news pop into my email. One of my long-time friends has written an e-book! It's an Advent devotional called Make Him Room. Kirsten blogs at I Still Hate Pickles, and she's the wife of a youth pastor, too!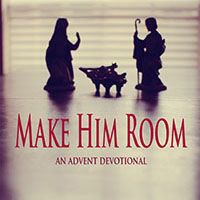 The book's only $2.99 and you can find it here on Amazon. I have to be honest and tell you that I haven't gotten it yet. My early Christmas present (a KINDLE!!) is slated to arrive today and I didn't want to figure out downloading a reader onto my computer when I knew I'd have the real thing in my hands in a matter of days.
So, yes. I'm totally telling you to get this book, even though I haven't read it yet. I know it will be that good. Kirsten was one of my first Bible study leaders ever and I know that what she has to say is worth reading. Over 7,000 copies of this devotional were picked up over the weekend when she ran a promotion and I'm confident that it won't disappoint. I've read another Bible study that she's written and she has some really valuable insight to Scripture!
You don't need to have a Kindle but you can download a free Kindle Reader via Amazon for your computer, iphone, or ipad. And don't worry that you've missed the first few days. It's still relevant and you can catch up quickly!
Scoot on over to Amazon if you're looking for a good way to refocus and anticipate during this crazy season!